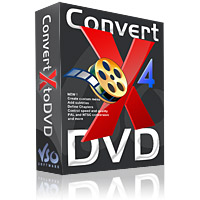 VSO Software announces the release its video converter and burning software, ConvertXtoDVD 4
With this much awaited new version, go a step further to convert and burn your internet and camcorder videos to DVD with outstanding image quality!
"To build this Version 4, we simply asked our customers: "Do you want better quality or faster conversion ?" The majority favoured the quality, so we listened to our customer's advice." says Fabrice Meuwissen, business manager at VSO software.

To achieve the best quality possible, a new feature has been added: the 2 pass encoding. This method includes the latest technology and is particularly efficient with large files that need to be compressed to fit on the DVD.


New resizing filters developed in house by VSO have also been implemented to give the choice of the best upscaling/downscaling method depending on the video, once again in favour of quality
However, conversion speed has not been forgotten, with the new Multicore support.

As always, VSO Software aims to provide easy-to-use products. For instance, the conversion advisor has been improved to enable the user to chose the best encoding method depending on video duration.
With ConvertXtoDVD 4, you can create in a few clicks a video that you can play on any DVD player, with customized menu, subtitles and chapters. The interface is simple, yet offering advanced options to suit all needs.
The software can be downloaded for trial on the VSO Software website: http://www.vso-software.fr/products.php
ConvertXtoDVD4 can be purchased at http://www.vso-software.fr/shop.php
Users who have bought the previous ConvertXtoDVD within a year get Version 4 for free! Other previous customers get 40% off the retail price.


About the company

VSO Software is an innovative software editor located in the south of France (Toulouse). Famous for its burning applications, VSO Software also produces photo software and freeware. Its best-selling software, ConvertXtoDVD is used by millions of people around the globe.



Caratteristiche
Video formats supported: avi, divx, xvid, mov, mkv, flv , mpeg1, mpeg2, mpeg-, nsv, dvr-ms, ts, ifo, vob, asf, wmv, realmedia, rm, rmvb, ogm, existing files from digital camcorders, TV/Sat, capture cards, etc. No external codecs needed like avi codec download More formats...
Create DVD menus with different templates available, possibility to add background video, image or audio, have chapter and audio/subtitle menus
2-pass encoding option for better quality
New filters
Conversion advisor wizard
Fast and quality encoder, typically less than 1 hour for converting 1 movie, and supports Multi-Core processors!
Included burning engine with burn speed control choice of SAO or packet writing methods, supports all DVD formats
Custom and or automatic chapter creation with markers and preview window
Advanced file merging possibilities
Audio formats supported internal and external: AC3, DTS, PCM, OGG, MP3, WMA and more... Select audio output format.
Subtitles files supported internal and external: SRT, .SUB/IDX, .SSA, opensubtitles, dvbsub with color and font selection, and supports tags like italic, bold, turn on/off with DVD player remote control
Video output for video standard (NTSC, PAL), TV Screen (Widescreen 16:9, Fullscreen 4:3) and DVD Resolution (Full D1, Broadcast D1, Half D1, SIF), or choose automatic for all choices listed above. Also convert video from NTSC to PAL or PAL to NTSC
Video post processing settings like video resize-pad/cropping and de-interlacing options
Multilingual support available languages...
System Requirements
Windows XP/ Vista / 7, 32 and 64 bits


Contact
Press and webmasters are allowed to publish the trial version on their website and cover CDs

Annelise Vo Thanh
Email: press@vsosoftware.fr
Website: http://www.vso-software.fr
Phone : +33 (0)56 216 02 23


Awards and Testimonials